Japanese stocks hit their highest level since 1996 on Monday after Prime Minister Shinzo Abe won a clear election victory.
The Nikkei climbed more than 1% in its 15th consecutive day of gains, a record winning streak for the index.
The ruling coalition is set to retain its two-thirds majority, suggesting Mr Abe's economic policies will continue.
The Nikkei index of 225 leading Japanese shares finished 239 points higher at 21,696.6.
The yen hit a three-month low against the US dollar, helping boost shares of Japanese exporters.
A weaker yen tends to lift the shares of export firms because it makes their products cheaper to overseas customers.
However, Japan's fresh stock market highs also reflect a global rally, as the country's equity markets are tracking gains on markets elsewhere.
Nissan, Mitsubishi and Sony all moved ahead in early trade, although Toyota's shares slipped after it temporarily suspended production at its factories because of a powerful typhoon.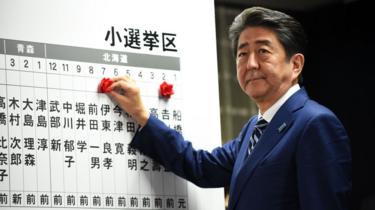 Mr Abe, who heads the Liberal Democratic Party (LDP) coalition, said the election was first and foremost about the nuclear threat from North Korea.
Analysts expect the victory will also mean the government's economic policies will remain largely unchanged.
Since he was first elected in 2012, Mr Abe has pursued a "three arrows" policy of monetary easing, fiscal stimulus and structural reform.