Cambodia's Supreme Court has dissolved the country's main opposition party, leaving the government with no significant competitor ahead of elections next year.
The Cambodia National Rescue Party (CNRP) is accused of plotting to topple the government – charges it denies, and describes as politically motivated.
More than 100 party members are now banned from politics for five years.
Cambodia's Prime Minister, Hun Sen, has ruled for 32 years.
He has long been accused of using the courts and security forces to intimidate opponents and crush dissent, but has for years allowed some measure of political opposition to his Cambodian People's Party.
The CNRP made unexpectedly strong gains in the 2013 elections, and had been set to fiercely contest next year's polls.
'End of true democracy'
The ruling was made in response to a government complaint, and all of the CNRP's elected politicians will now lose their positions, including 55 seats in the 123-seat National Assembly.
Senior CNRP politician Mu Sochua, who has fled the country along with dozens of other MPs, told the BBC that the decision marked "the end of true democracy in Cambodia".
She called for sanctions, adding: "The international community cannot let democracy die in Cambodia by refusing to see that its has been dealing with a dictator for the past three decades."
What a Facebook experiment did to news in Cambodia
Mu Sochua 'feared arrest'
Who is Hun Sen?
The president of the Supreme Court – Judge Dith Munty – is a senior member of the ruling party.
In announcing his decision he said that the CNRP had effectively confessed to the charges of plotting a revolution by not sending any lawyers to the trial.
The CNRP had argued the verdict was pre-determined.
The International Commission of Jurists said Judge Munty's role in the case "made a mockery of fair justice", while Amnesty International said the Cambodian judiciary was being used "as a political tool to silence dissent".
During the hearing, a government lawyer said the opposition had tried to topple the government "in order to grab power, like in Yugoslavia, Serbia and Tunisia", the Phnom Penh Post newspaper reported.
Senior government figures have long warned of a US-backed "colour revolution" in Cambodia, alleging links between independent NGOs, US-linked media outlets and the CNRP.
The US ambassador to Cambodia has called the accusations "absurd" and "without a shred of serious or credible evidence".
Prime Minister Hun Sen had earlier called on CNRP lawmakers to defect to his own party ahead of the ruling. He also said he was sure the party would be dissolved, adding: "I dare to bet my life on this happening".
The ruling comes after a prolonged crackdown on critics and dissent. In September, CNRP leader Kem Sokha was arrested and accused of conspiring with the US to overthrow the government. He was charged with treason.
Several US-backed media outlets and organisations have also recently been shut down or kicked out of the country.
In September, one of Cambodia's last independent newspapers, the Cambodia Daily, was forced to close after the government ordered it to pay a huge tax bill.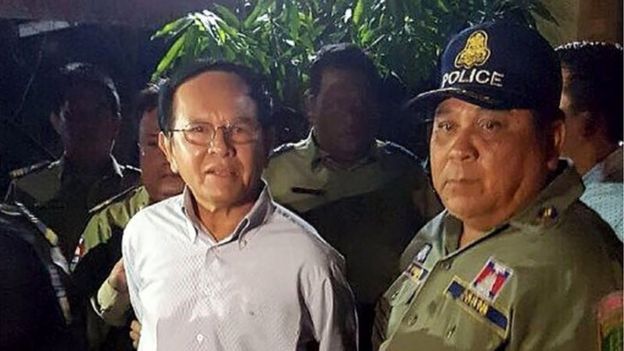 Hun Sen, a former Khmer Rouge commander, is one of the longest-serving heads of government in the world.
He has overseen a prolonged period of peace and rapid economic growth in the war-scarred country but is criticised by groups like Human Rights Watch for being a ruthless leader unwilling to relinquish his hold on power.
In recent years he has positioned his government closer to China, which has showered Cambodia with aid and loans.
In 2015, then CNRP leader Sam Rainsy fled to France to escape arrest for a defamation conviction.
Earlier this year, the party made further gains in local elections that were seen as a bellwether for next July's polls.